Proven by Users Release Updates
November 27th, 2021
Multiple sections of the same type are now numbered for easier reference
Tree test attributes are now locked down after the test is live to prevent adding/subtracting tasks
Bug fix to upload to allow upload of files with jpeg extension
Added preference testing data download
Other small fixes
May 29th, 2021
Card sort defect fix
Invoices now display billing address
May 23rd, 2021
Added the ability to put images in surveys
April 18th, 2021
Wording adjustments for clarity
Small defect fixes
March 13th, 2021
Added download feature to tree testing results.
Other Small defect fixes
January 31st, 2021
Updated the image selection modal to show a larger image and names
Fixed problem with merge group table not resetting after filter & merge
Other Small defect fixes
January 18th, 2021
Improved help area
Improved messaging for participants who are re-accessing a card sort and have already completed it
Several small bug fixes including:

fixed sorting on participant table time column
fixed sorting capitalization on card sort group table - group name column

Improved Tree testing results - Added accordions to allow a quick snapshot view of all tasks
---
December 31, 2021
Major Release! Proven by Users has had a major upgrade and now supports:
Tree testing aka a reverse card sort,
First Click testing,
Preference testing, and
Five Second testing!
Important notes about this upgrade
All users,responses, and subscriptions have been upgraded to the new platform
All projects have been upgraded except projects that were empty (no cards, groups, surveys, etc). These have been cleaned out.
Participant URL's for your existing card sort projects have not changed.
Due to very low utilization, card sort specific coloring options have been removed. Header branding colors and logo still exist and project settings have been migrated.
All the results analysis for card sorting is the same, except surveys are now broken out as their own section and are easy to filter.
'Saved for later' responses are now included in results analysis. This was a major pain point in our old system where save for later responses couldn't be viewed by the facilitator.
Survey results of non-completed participants are now included in results analysis. Surveys are now treated as independent result and now all results are shown regardless of how far they progressed through the test. You can exclude any participant in the results if you wish to.
We've added the ability to block same participant from same computer. This is done via a cookie
The 'save for later' button in the card sort has been switched to a link. This was to help reduce confusion of which button to push and to increase completion rates.
The new editing UI
If you were in the middle of setting up your card sort, the below image should help orient you to where things have been moved.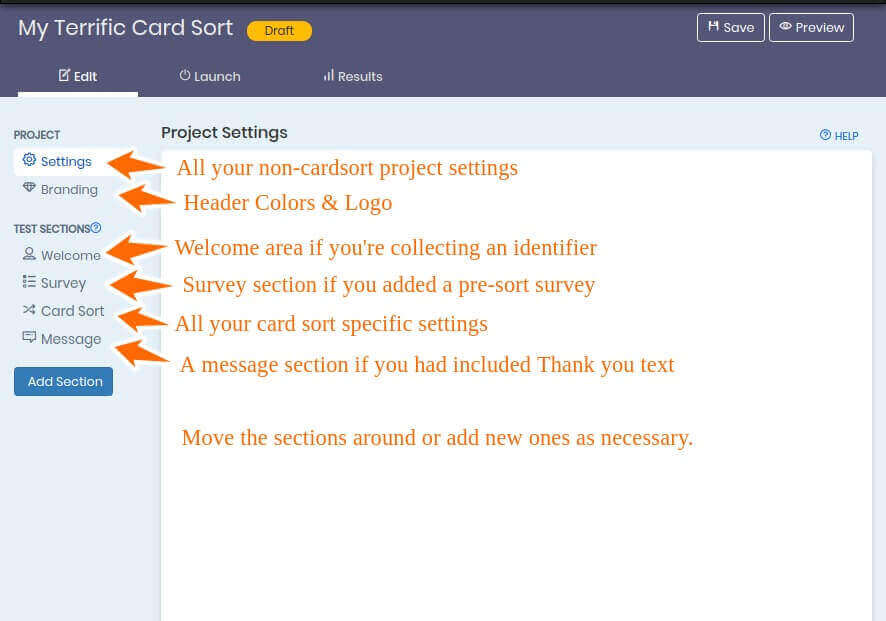 Of course if you have any questions about this upgrade email us at support@provenbyusers.com