Launching Your Proven by Users Test
Before launching your project

Before launching your project, we recommend Previewing the project to make sure:
All your text (welcome, instructional, task, survey, etc.) are easy to understand, typo free, and focused on your user demographic.
Your survey questions ask all the information you want to collect to be able to filter your results.
We also suggest having someone else try the test in preview mode.
Making your project live
Making the project live allows participants to access the unique project URL and complete your test.
Launch your project by navigating to the Launch tab and pressing the Make Live button. If there are parts of your test that haven't been filled in, and could result in a unexpected result, they will be itemized above the button.
It is also good to note that making your project live will lock some attributes from editing. We lock down several parts of the project including multiple choice survey answers, card sort cards, group names and tree test tree structure. We do this to ensure the integrity of your response data.

Editing your project after it's live
If you find a problem with your project after you make it live you can still edit many settings. However, if you have collected responses you could create response inaccuracies by changing the locked attributes.
If you need to edit a locked setting on your project, use the make your project editable link in the message on the Edit tab.

If you haven't collected any results yet, this option will revert your project to editable status, and you can edit all the settings.
If you have collected any results you'll be shown the following.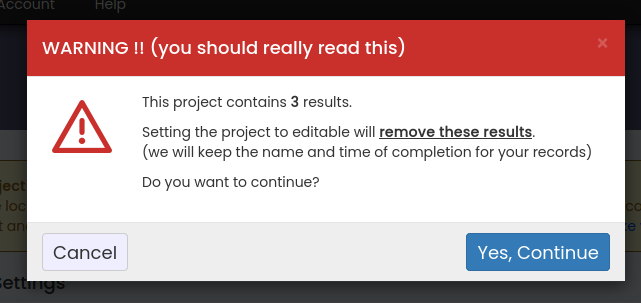 If you choose to continue, your existing results will be deleted. A record of the just the participant identifier and time will be kept and marked as invalid, but no results will be available.
Your final option is to duplicate your project and collect results under a new project.