Launching your Proven by Users Card Sort
Before launching your card sort, we recommend previewing the project to make sure:
The cards were entered correctly without typo's
The groups (if closed) were entered correctly without typo's
Your welcome, instructions and thank you text are easy to understand and focused on your user demographic
Your survey questions ask all the information you want to collect in order to filter your participants later on.
Making your card sort live
Making the card sort live allows participants to access the unique project url and complete your card sort. Launch your project by pressing the Make Live button. When you do you'll see a dialog that explains the following.
Making your project live allows participants to access and complete your test.
However, this will lock many attributes from editing.
Once the project is live and results are collected we lock down several parts of the project including card, group and survey editing. We do this to ensure the integrity of your results data.
Editing your card sort after it's live
For problems with settings other than card names, group settings, or survey questions use the Edit button like you normally would and edit your settings. These will take effect as soon as the project saves.
Otherwise, you can use the Make Fully Editable option under the more menu.

If you
haven't collected any results yet
, this option will revert your project to editable status, and you can edit all the settings.
If you have collected any results you'll be shown the following.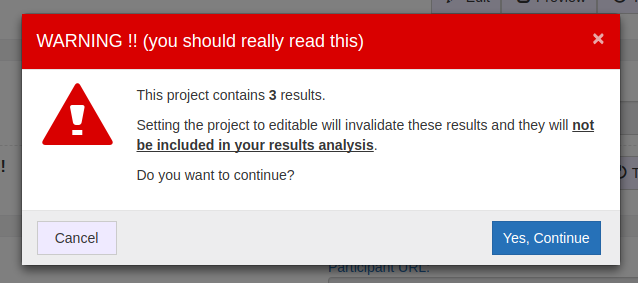 If you choose to continue, your results will be marked as invalid and not included in any of your results analysis.
Your final option is to Duplicate your project and collect results under a new card sorting project.
Have questions? Send Us An Email